Welcome to
A Better Way To Manage IT Maintenance
Lower Your OpEx and Protect Your Critical Assets Around the Globe
PROTECT YOUR CRITICAL IT ASSETS WITH
A Full Life-Cycle Approach to IT Maintenance You Can Count On
Get coverage tailored to your networks and confidence knowing when something happens, it will be handled right away.
The Right Coverage
Standard and custom Service Level Agreements to properly cover your networks.
Reliable Service
When something breaks, you can't afford downtime. We make the maintenance request process as simple as:
Open a beer, sip a coffee, peek at your socials. Whatever it is, you can relax knowing your maintenance is under control.
Confidence We Will Follow Through
Through PivIT's Sparing Integrity Program, gain the confidence that your maintenance plan will deliver when you need it.
When we spare your gear, you get:
1,000+ Field Stocking Locations
160 Countries...And Counting
MANAGING MULTIPLE MAINTENANCE CONTRACTS CAN BE A MESS
Ditch The Bloated Spreadsheets and Archived Emails and Start Using OneHub
OneHub software aggregates all your IT assets and maintenance contracts – for free
– to make management simple. Whether it's small components in your servers or large chassis - or anything in between - OneCall OneCall + OneHub is your single source of truth for IT asset management.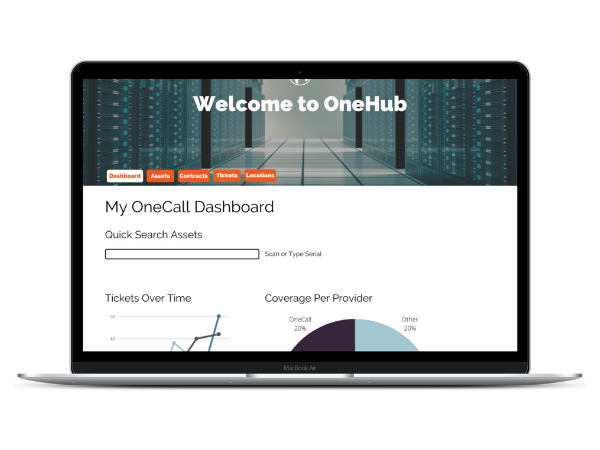 Unlimited team accounts for free
Track all your coverage, assets, and contracts in one place
Manage maintenance data for all of your cost centers
Keep track of your TAC escalation, regardless of provider
Intuitive and Easy To Use
Import From All Your Vendors
"We've been long-time customers of OneCall for our asset maintenance but since we started using OneHub we've seemingly found more time in the day to be network professionals! It's crazy that it used to take almost a whole week to create deployment reports and now we can do it with the click of a button."

–Mark O., Senior Engineer, Fortune 100 Company
A Better Way to Manage IT Maintenance
2. Get Your Plan
Get customized recommendations and pricing for your project.