Our Global Sparing Network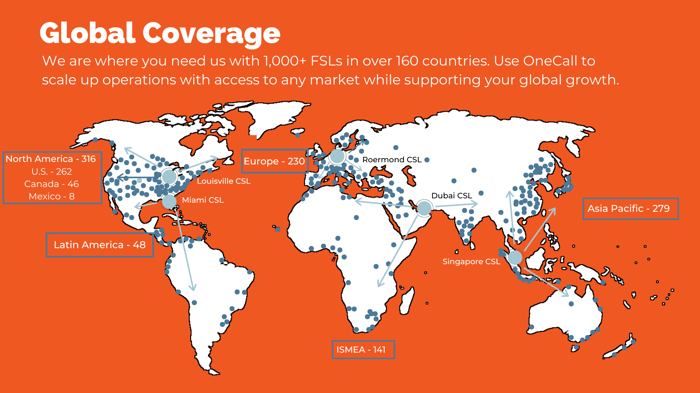 Chances are, you're managing global networks, which means you can't always be on-site when incidents arise.
Enterprise network professionals trust OneCall to protect their networks around the world. Have someone that you can trust to have your back when you're not around. Depend on OneCall for your global IT infrastructure maintenance needs. Need Professional Services Too?
On this page, you'll find details about our global coverage network, made up of over 1,000 field stocking locations in over 160 countries. Whether you've got upcoming renewals or you're just shopping for options - we're here and happy to help in any way we can - from budgetary pricing to quick-turnaround projects, OneCall has you covered anywhere around the globe.
Not Using OneHub Yet?
OneHub is the solution for managing enterprise IT assets and maintenance contract data. Ditch the bloated spreadsheets - start using OneHub today.
SLAs That Meet Your Specific Needs
The options don't stop with 4-hour, next business day, or onsite. Find out more about how we can customize your maintenance to your specific needs.
Need a Quick Solution?
No annual contract, just maintenance for as long as you need to fill any gap. We help clients who are in need of a long-term maintenance solution as well as those in a pinch when they need a quick 3-month solution. Let us know how long you need maintenance!